A small reminder...
As IA becomes more popular we are beginning to get more spammers/advertisers - I've been busy on the Ban Button over the last couple of weeks
note the especially adapted key board!!!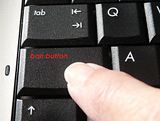 Seriously please be careful on what links you click on - some are innocent & are purely advertising but others may have a more unsociable reason for posting.
We do endeavour to remove them ASAP ........